Funding
We would like to express our gratitude towards all our partners and supporters for all their contributions. We look forward to continue our collaboration with you.
How you can contribute
Watergarden is a community psychology project that runs under the auspices of the Centre for Community Psychological Services, Unit for Psychology. Watergarden does not have a steady flow of funds. We are therefore dependent on sponsorships for our operation and expansion.

Your donation or support may impact on the operation of the project in the following ways:
Extend our human resource capacity by recruiting people from the community to help with facilitating programmes and offer them a minimum remuneration. This is in effect an employment opportunity that will be welcomed since Klapmuts has a high unemployment rate.
Separate the younger children from the seniors and run parallel structured and age appropriate programmes with the two groups. Currently the two groups are separated but effective human and physical resources fall short in providing the best possible service to all the children.
Upgrade the facilities to make it more child-friendly and appropriate for learning.
Obtain more academic resources and stationary for the children.
We appreciate sponsorships and donations of any kind that may be useful at Watergarden. Please tell your friends about us.
Wish list
We would like to have the following: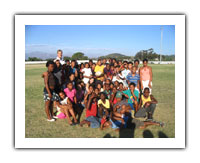 Books
Dictionaries
Magazines
Bookshelf
Stationary
Paint & brushes
Play dough
Hardboard to write on
Balls
Hooples
Basketball hoops
Chess boards
Digital camera
Computers
TV set
Copy machine
Monopoly & 30 seconds
Dominoes
Playing Cards
Puzzles
CD player + CD's
Tables & chairs
Refreshments
Our own Mini-Buss
Watergarden Banking details
Stellenbosch University Standard bank
Account number: 073 006 955
Branch code: 050 610
Watergarden requisition number: R1000
Reference: Watergarden
Please fax deposit slip to: 021-808 3584
For other individual financial and physical contributions please contact Liezle Meredith at 073 828 0771; or This e-mail address is being protected from spambots. You need JavaScript enabled to view it
Subscribe to our Newsletter