Volunteering
What is expected of you?
To commit to one afternoon per week (Tuesday, Wednesday or Thursday). We leave from the US Carpool ("voertuigpoel") in Banghoek road at 2:15pm and return just after 5pm. Transport will be provided.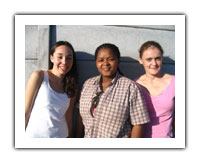 You may choose what area(s) you want to get involved with. These are:
Developing and implementing programmes
Provide homework assistance
Sports activities
Art and music
Administration
Website design and update
Marketing
Who to contact?
Lynne Jacobs (Volunteers Coordinator)
E-mail: This e-mail address is being protected from spambots. You need JavaScript enabled to view it
Cell phone: 072 698 6910

Please download, print and fill in the form & code of conduct below:

Volunteers Contract
Subscribe to our Newsletter