Our background and history
Since 2004 Klapmuts Primary School has provided a practical training site for students in their final year of the BPsych Programme that produces professional mid-level counsellors. During that time the negative impact of the difficult circumstances under which children in the Klapmuts community live and learn on their psychosocial development has become increasingly obvious.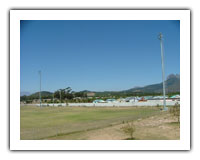 In order to understand these circumstances more fully it is necessary to provide some background about the community itself.
Firstly, in demographic terms, Klapmuts, which is situated between Stellenbosch, Paarl and Kraaifontein, is inhabited by approximately 5000 people according to the 2001 census. It is estimated that there are 1500 houses in Klapmuts which include 800 RDP houses; 300 medium income houses; 200 informal and backyard settlements; and 50 houses without proper sanitation. Klapmuts has one primary school that serves approximately 1 200 learners.
In the community itself poverty and unemployment are rife. Related to this is the presence of many of the social ills associated with poverty that are found in poor communities throughout the Western Cape. High levels of alcohol and substance abuse, child sexual abuse and neglect, family violence, teenage pregnancy, poor nutrition and other health problems, and low levels of literacy and education in the adult population are all common. Many parents work long hours that lead to children being left alone and unsupervised. Furthermore, many children are required to assume adult roles at an early age leading to role confusion, uncertainty and insecurity. Parents are also often unable to provide the educational input and stimulation necessary to ensure healthy child development.
It is within this context that the young children of Klapmuts need to develop and learn. While the Headmaster and staff of the primary school do excellent work, it is apparent they are often overwhelmed by large student numbers (up to 50 learners per class) and a conspicuous lack of educational support the parents of the learners. Teachers at the school are often forced to pay special attention to learners with scholastic problems which means that the other children receive little to no personal attention.
From a psychological perspective, the factors mentioned above clearly have a negative impact on children's psychosocial development. Children go through different developmental stages that involve different developmental tasks. According to Erikson, children need to learn to trust their environment; to receive encouragement and support from their parents; and need to be given opportunities to explore and establish healthy peer relationships in a safe environment. Children who are chronically exposed to poverty, violence and other social ills may experience significant deficiencies in these areas, and this may affect their overall well-being.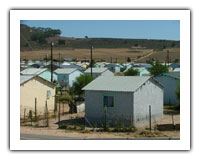 Some children that are chronically exposed to poverty and its related issues such as deficient stimulation and nutrition, may develop a low self-esteem and may experience impairments with regard to cognitive, motor, and social development. It has become clear that many children experience problems with certain cognitive tasks (for example, telling the time) that they should be able to complete without any difficulty given their developmental age. Such deficiencies can often be linked to poor self esteem in children which, in turn, has been clearly linked to poor scholastic and social development.
Parental absence and the deficiency of resources often lead to insufficient educational stimulation of children. There is an identified need for alternative sources of stimulation for the children of Klapmuts, such as a library. Furthermore, many children do not have access to structured prosocial activities after school and this, combined with the lack of adult supervision, often leads to involvement in antisocial behaviour.
Subscribe to our Newsletter