First forward, then backwards towards PhD
"I've just recently ... the last year or so... realized the end is in sight. Although I was motivated throughout, there were as many steps forward as backwards. It still feels like walking on clouds when I drive home after work and realize I do not have any more bridges to cross."
This is how an excited Dr Viljoen van der Walt, Director: Risk Management and Campus Security at Stellenbosch University (SU), described his PhD journey on Wednesday (December 6). Van der Walt received his doctorate in Business Administration and Administration at SU's fourth graduation ceremony of December 2017.
He was among the 847 students in the Faculty of Economic and Management Sciences (Group A) to whom degrees, diplomas and certificates were awarded. A total of 1664 students (Group A and B) in the Faculty will be graduating this week – the most ever for the Faculty at a December graduation. Last year, 1495 students received their degrees, diplomas and certificates. Of the 379 BAccounting Honours students who enrolled in the School of Accounting in 2017 – also a record – 208 will graduate during the week.
Van der Walt conducted research on how the key elements of risk management can be included in strategy formulation processes at universities.
He expressed his gratitude for the support of his family, supervisors, line manager, Nicolette van den Eijkel, and especially his colleagues at Campus Security. "They knew when to encourage and when to offer silent support."
It is his wife Jolene, in particular, who deserves a special word of thanks, Van der Walt added.
"I'm privileged to be married to a primary school teacher. She works every night to who-knows-what time. Throughout my Honours, MBA and PhD she always worked later than I did. We have been used to the 'night shift' from eight to midnight."
Although Van der Walt received support from various quarters, it was very difficult to find a supervisor.
"There are very few supervisors in the field of risk management in South Africa. After a lot of back and forth and having to start over twice, Proff Jackie Young from UNISA and Eon Smit from the Stellenbosch University Business School were appointed as supervisor and co-supervisor respectively. I only started to show progress after several years."
"Just when I started to gain momentum, protest actions broke out at SU and broke my momentum," said Van der Walt.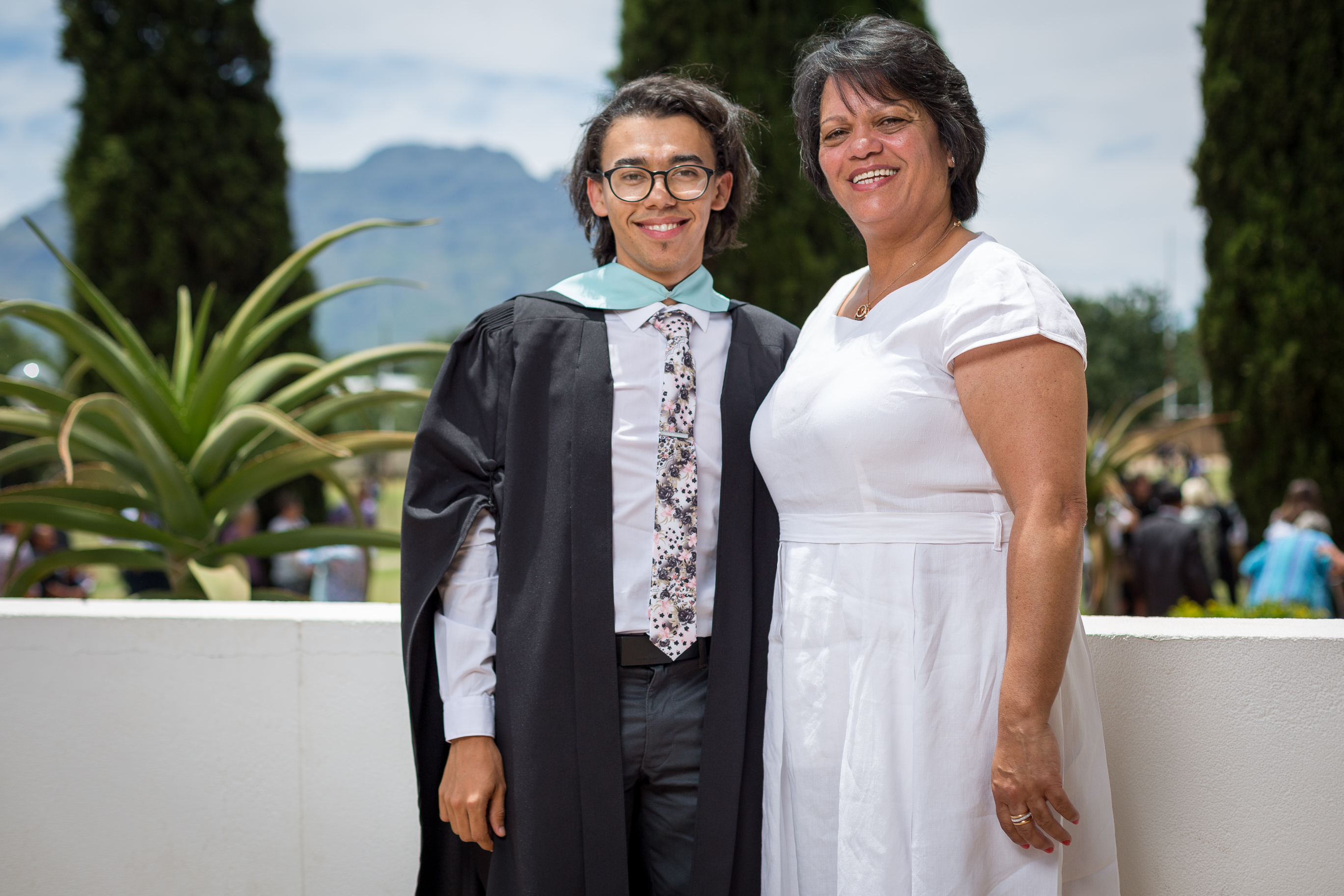 Also among the graduates was Randall van der Heever who obtained his BAccounting degree. Van der Heever was one of the first recipients of the Russel Botman Bursary in 2016.
"The Botman Bursary gave me the peace of mind to pursue a dream that seemed so unrealistic a few years ago yet it seems like yesterday when this same bursary changed my life in a way I would have never imagined. I had a dream, and thanks to the Botman Bursary, today it is a reality," said Van der Heever.
He will be following the BAccounting Honours programme next year.
In congratulating the new graduates, the Chancellor of SU, Dr Johann Rupert encouraged them to work on radical economic growth that is distributed fairly.
"Carry on learning because if you stop you will be left behind. Stay curious and have empathy with your fellow human beings and the planet. With empathy and curiosity you will go a long way," he said.
At the same ceremony, Manie Lombard (Division of Finance), Anita Nel (INNOVUS and Commercialisation) and Japie Kotze (Human Resources) were honoured with Chancellor Awards.
Besides live streaming, recordings of graduation ceremonies are available online after the ceremonies. 
Main Photo: Dr Viljoen van der Walt at the graduation ceremony.
Photo 1: Randall van der Heever with Dr Beryl Botman, widow of the late Prof Russel Botman.
Photographer: Stefan Els
Author: Alec Basson 
Latest News
Professor Pumla Gobodo-Madikizela, Research Chair in Studies in Historical Trauma and Transformation at Stellenbosch University (SU), received an honorary doctorate from...
Stellenbosch University's Division for Research Development recently played host to a colleague who works thousands of kilometres away at the University...